Joint Webinar: How Pipe Uses Hasura To Help Companies Grow On Their Terms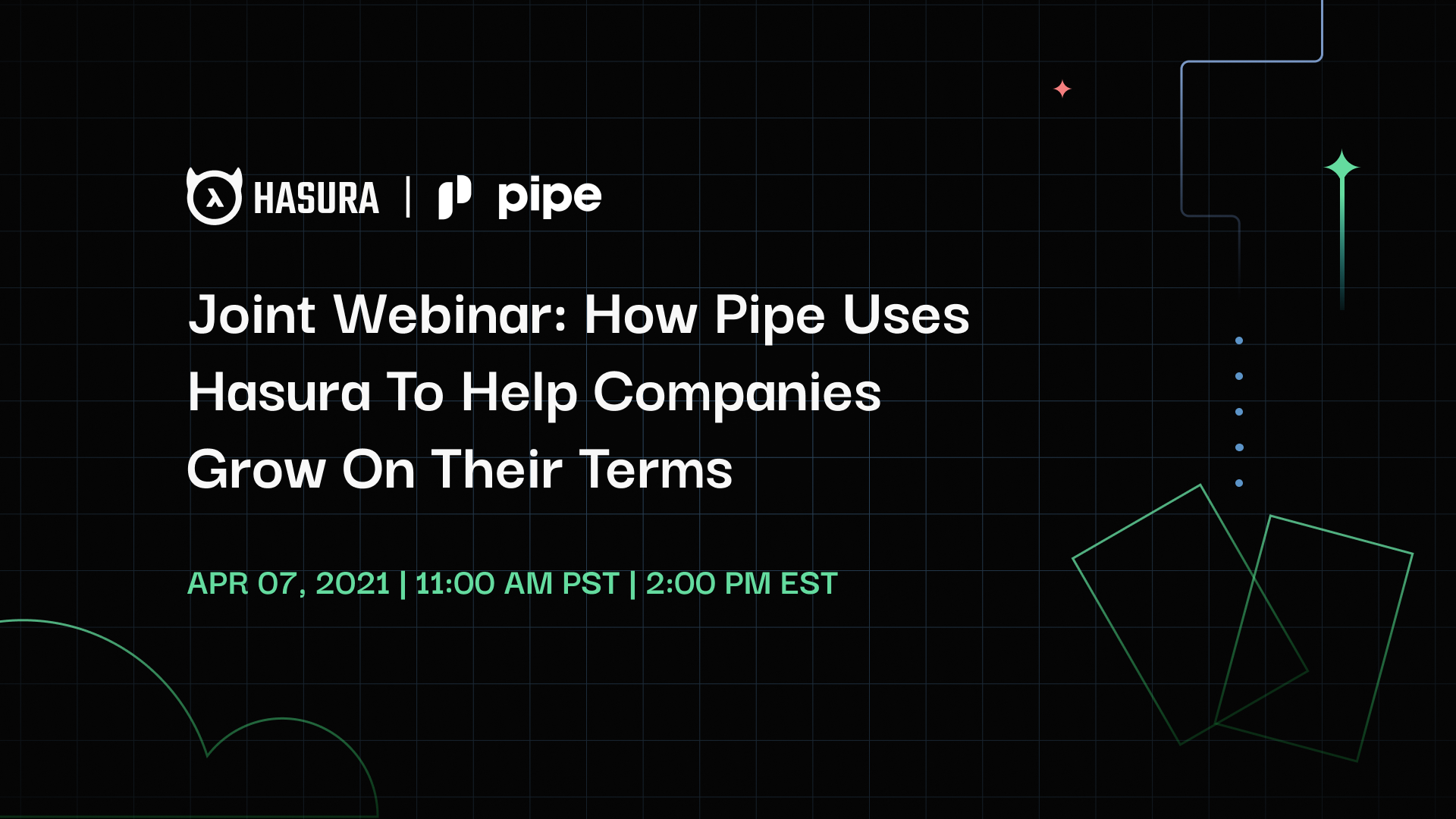 Learn how fast-growing Pipe is using Hasura in this joint webinar on Wednesday April 7, 2021 at 11:00 AM PST / 2:00 PM EST.
---
Pipe is a fintech startup that's transforming how companies fund their growth by unlocking their biggest asset - revenue. Through Pipe's platform, companies can trade their monthly or quarterly contracts for their annual value upfront, instead of taking on highly dilutive equity and restrictive debt.
They're also using Hasura to balance delivery velocity, scalability, and to manage the stringent security requirements for financial services.
Come learn more about Pipe, and how they've built a scalable and modern architecture, and how they're using Hasura to easily create GraphQL APIs to ship features quickly.
Bring your questions - we'll also have live Q&A!
Learn About Pipe. Discover how Pipe is unlocking a new asset class, the challenges they faced, and why they chose GraphQL for their API.
Architecture. Learn how Pipe architected their solution and the benefits they gained by utilizing Hasura.
What's Next. See where Pipe is headed next and their technical vision for achieving it.
Presenters
Peter Downs, Director of Engineering at Pipe
Peter is the Director of Engineering at Pipe, joining as one of the company's first engineering hires. Prior to Pipe, Peter worked at Stripe and numerous tech startups including, Coinbase, B12 and more. Peter holds a degree in Computer Science from MIT.

Steven Yi, Head of Product Marketing at Hasura
Steve leads product marketing at Hasura.  Steve has held leadership roles at Microsoft, Red Hat, and multiple startups - ranging from software architecture & development, developer tools, cloud, mobile development, and AI.