What is HasuraCon?
HasuraCon 2023 is Hasura's annual user conference that brings together current and prospective clients, partners, and Hasura experts to exchange ideas, share knowledge, and build community. Attendees will learn about new Hasura features, network with their peers and share best practices for leveraging Hasura.
We hosted over 1,000 attendees from across 95 countries - all live on event day. This year we plan to reach more guests than ever before for an engaging online experience.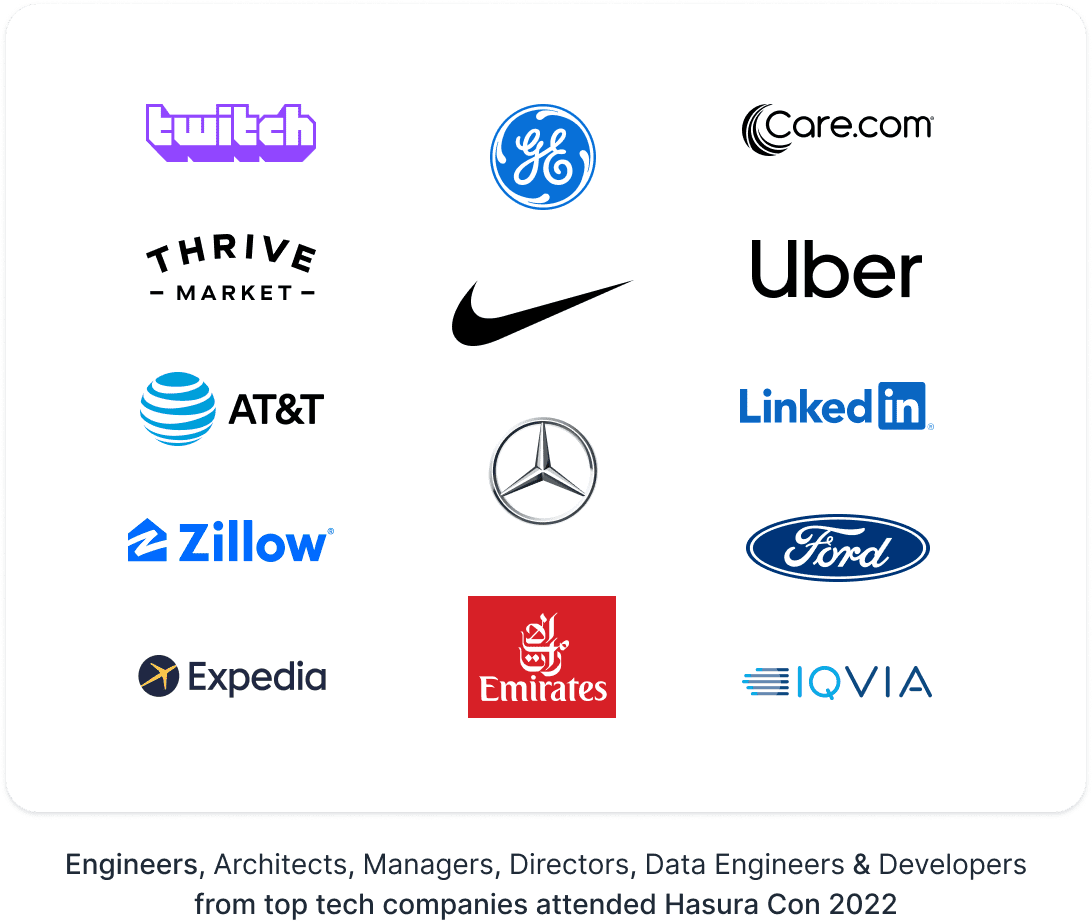 We work with some of the top companies in the industry



Workshop
tue, june 20, 2023
Kick off HasuraCon 2023 by attending this half-day workshop to learn how to create Instant APIs along with other herculean features.
Day 1
Wed, june 21, 2023
Here you'll learn about Hasura's core engine and many features, and how it's helping developer productivity and digital transformation.
Day 2
Thu, june 22, 2023
The second day of sessions, you hear talks that dive deeper into advanced GraphQL topics, database integrations, road maps, and more.
4
Pre-event organic social promotions on both LinkedIn and Twitter
60-second ad that runs during one transition between sessions on main stage
A dedicated virtual meeting table
Link and logo on conference website
Logo featured in one pre-event marketing email
Logo inclusion on session transition loop during main stage and track sessions
Fully customised and branded virtual booth
Option to capture visitors' interest with virtual goodies such as offers, vouchers, downloadable collateral and more
Answer questions and start engaging conversations via booth chat
Display banner in virtual lounge
List of all opted-in booth visitors and full chat transcripts
Logo inclusion in post-event email
Pre-event organic social promotions on both LinkedIn and Twitter

4

2

1

60-second ad that runs during one transition between sessions on main stage

A dedicated virtual meeting table

Link and logo on conference website

Logo featured in one pre-event marketing email

Logo inclusion on session transition loop during main stage and track sessions

Fully customised and branded virtual booth

Option to capture visitors' interest with virtual goodies such as offers, vouchers, downloadable collateral and more
Answer questions and start engaging conversations via booth chat

Display banner in virtual lounge

List of all opted-in booth visitors and full chat transcripts

Logo inclusion in post-event email