Announcing our $25M Series B financing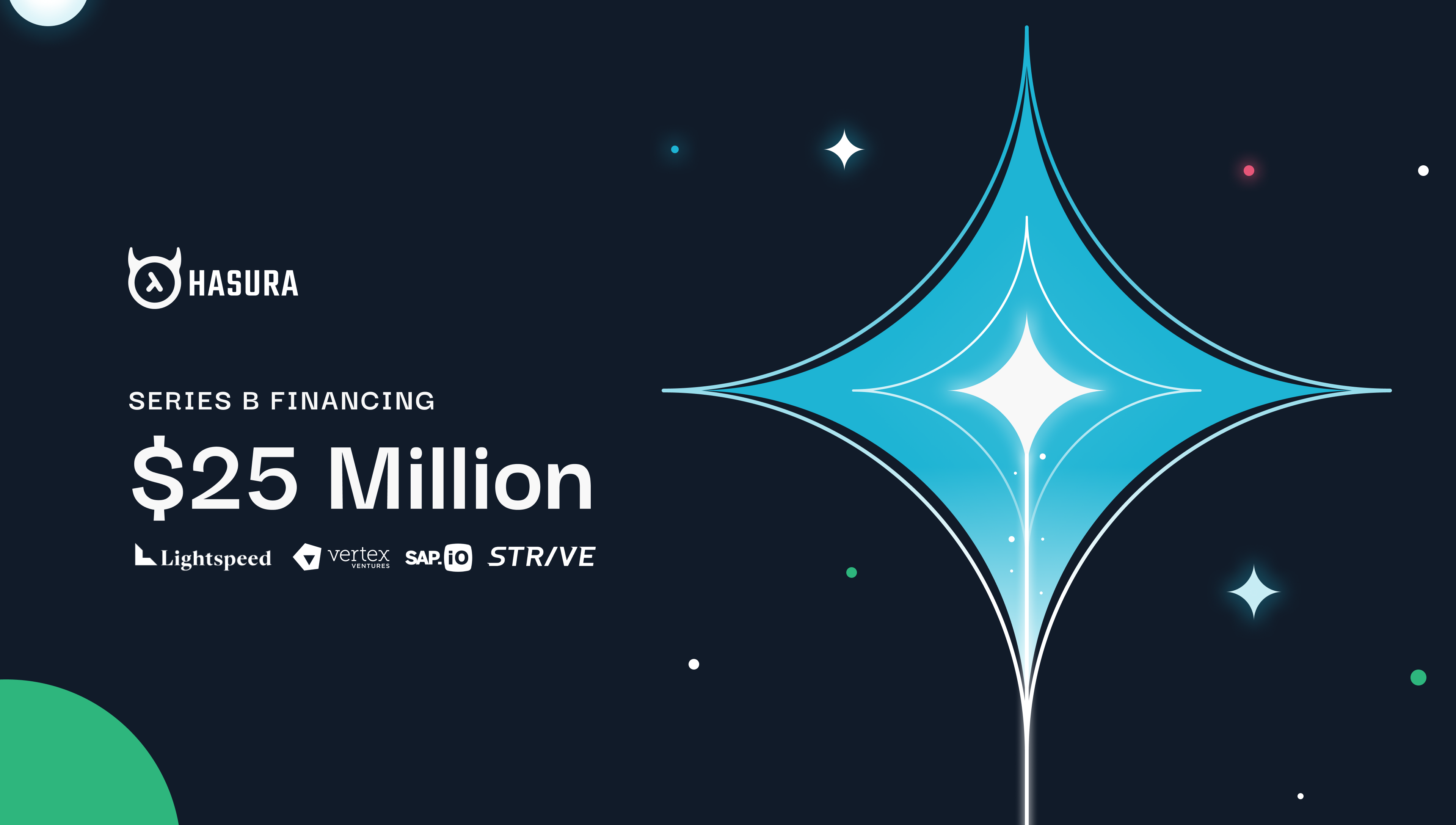 I'm happy to announce our financing of $25M led by Lightspeed (Techcrunch) with participation of our existing investors Vertex, Nexus, SAP.io, & Strive.

As part of this round, we are delighted to welcome Gaurav Gupta --  who comes with a background in great infrastructure and open-source companies like Splunk, Elastic, and Grafana as an executive and a VC -- to our board as well.
Although we've been well capitalised, with a good revenue stream, building an open-source infrastructure product and company is not easy. With this recent fundraise, we're in an even better place to invest in our community, build faster, and support our customers even better than today. 🔥

I thought I'd take this opportunity to share how we think about this financing, our business, and the road ahead!
tl;dr - Here are our focus areas:
Continue investing our community
Solve hard problems
Launch new DB integrations (MySQL for example)
Actively contribute to OSS communities we depend on: the Haskell, GraphQL and OSS community
Company building and setting stronger foundations for a distributed and remote future
Make our users successful!
---
1. Community is core to the identity of Hasura
We are the kind of people for whom open-source makes sense. It is easy to lose sight of this when raising money but our commitment to investing in our community and in open source does not change.
To that end, we are continuing to invest in building community. The goals are simple: to listen to our users and enable them, and to nurture an active community.
A community is made up of companies, contributors, users, customers, learners, followers, and so much more. The stewardship of this community belongs to each of us… and not just to the company. Each of you reading this plays an important role in building, and maintaining, a healthy, welcoming, safe, diverse environment. Your participation matters and we value it!
Community has been a company responsibility, and now we have a dedicated team within Hasura so that we're giving it our full attention.
2. Continue solving hard problems & solve harder ones
Hasura is an infrastructure component, a web service that presents your entire universe of application data as interlinked JSON documents that can be queried and operated on over the web.
This involves solving some hard problems, some which we've tackled and a few others on our roadmap. Some of these may be non-obvious, so we've put together a detailed post that enumerates our technical design and the problems we're solving to provide more visibility into our approach and thinking.
Read the post here: https://hasura.io/blog/how-hasura-works/
With this financing, we are investing in our engineering team. Both in humans to create amazing code but also in infrastructure, tooling, and processes that will allow us to collaborate more effectively so that we can keep delivering on complex problems!
3. We ❤️ Haskell
Haskell is, and remains, a secret weapon that has allowed us to work in parallel on a large and complex codebase. Hasura is one of the few teams in the world building and running cloud infrastructure on Haskell.
This would not be possible without our amazing engineering team and the community, and ecosystem, built around Haskell. We rely heavily on this open-source ecosystem to make sure we stay productive. We are going to be spending more time exchanging ideas, improving tooling, and helping maintain open-source libraries along with the broader community.

Among other things, we are partnering with Well Typed to work on improving Haskell tooling together!
It has been a dream for us to be the kind of company that can keep giving back to the open-source community and we're taking better steps towards that every day :)
4. Support for multiple databases
In addition to this financing, we released alpha support for MySQL today, and SQL Server is actively underway.
This process has enabled us to think about how we build the underlying abstractions for supporting multiple, different databases.
We are going to be accelerating our work with the community to rapidly build, and maintain, native & no-code connectors to more SQL, NoSQL, NewSQL databases and other data-sources.

If you'd like to stay updated, you can sign up for our mailing list here.
5. Hasura is its people and its processes
Hasura is its people. We share a mission to solve hard problems, enable our users, drive bottom-line impact for our customers alongside shared cultural values of trust, empathy, and 'Doing The Right Thing'.
But, working with a group of 5 people is very different from a group of 50 (and growing). Distributed, or 'all-remote' teams are especially hard (we span 20 hours of timezones!). But, it is a forcing function for doing the right things. It demands more of us as people.

As we grow as a global team working towards a shared goal, we cannot stay the same or, even worse, regress to the mean. We have to communicate more. We have to be more transparent. We have to be vastly more empathetic.
To keep our amazing culture and to keep innovating we are investing in people, process, and technology to make sure we are able to grow as a team.
6. Making our mission-critical users successful
At Hasura we have the opportunity of having tremendous business impact for users who're building mission-critical application and trusting Hasura with their workloads.
Especially as our cloud adoption and enterprise adoption grow, we will continue to invest in our people and processes to ensure our users running mission-critical applications get the kind of reliability, performance, security and support that they need to be successful.
---
In Summary
Hasura has been driven by a passionate team and an active community, solving difficult problems and helping evolve the product. And it's amazing that we have the opportunity to do even more of this in the future!

Keep us honest, share your frustrations and share your successes. That's our fuel which makes us go, and it's our carrot 🥕and it's our stick. :)
As always, I'd love to hear about what you've been building and welcome any input you have for us!

I'm at @tanmaigo on twitter. Don't hesitate to reach out!