GraphQL Asia: What you can expect ?
GraphQL Asia is almost here & we're super excited! Here is a quick look at what you can expect at Asia's very first GraphQL conference.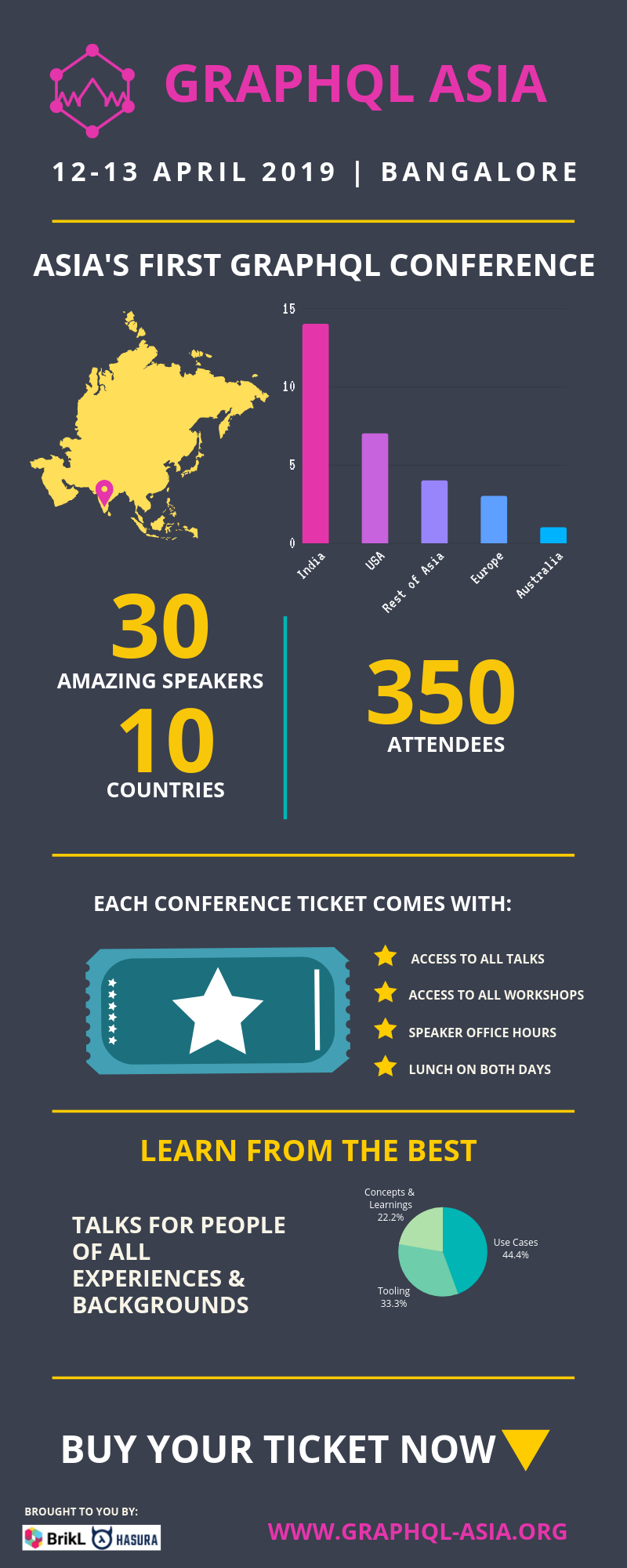 ---
? Talks
We have some amazing talks lined up for you! Our speakers come from companies of all sizes from across the globe who have been through the GraphQL journey over the past few years. We have one of the creators of GraphQL – Lee Byron, delivering the keynote.
We also have speakers from Twitter, Airbnb, Paypal, Adobe, Philips Healthcare, Treebo, Tokopedia, Cleartrip, Microsoft, Amazon & many more.
Apart from learning about how GraphQL has been implemented at these companies, you'll also get to meet the creators and engineers behind some of the most exciting GraphQL products & tools- Gatsby, AppSync, graphql-java, Nexus, and of course, Hasura :)
Check out the full agenda here.
? Workshops
GraphQL Asia will also let you get your hands dirty with four workshops ranging from beginner to advanced, that introduce you to GraphQL and tools to get you productive quickly. Your conference ticket gives you access to the workshops as well.
You can check out the workshops that we have planned here.
?️ Speaker Office Hours
Expect some major learning and stimulating conversations at GraphQL Asia at our informal, 20 minute, small-group interactions with the speakers. Ask them your questions and chat with them about what you love or hate about GraphQL, and anything else under the sun! It's like the stack overflow room, but IRL. :)
---
So who should attend?
The influence that GraphQL can have on your development process means that everyone from frontend developers to team leaders and CTOs can benefit from learning about GraphQL! We have 25 member teams from a single company attending the conference (yay to group discount tickets)!
Of course, this conference is for GraphQL enthusiasts and practitioners, but it is also for those curious to learn about its benefits, and even for skeptics! (No, really – we have a whole talk by Robert Zhu called "Why you should use REST instead of GraphQL").
---
How you can get involved
Attend
Get your tickets here: https://www.graphql-asia.org/tickets. Prices rise from the 1st of April, so get them soon!
Group Discounts: We have group discounts for large groups, so get your company to send in a large team!
15% off for 5 tickets of more
20% off for 10 groups of 10 or more
30% off for groups on 25 or more
Discounts get automatically applied when you choose your number of tickets. Buy here.
Diversity Tickets: We want the GraphQL conference to speak to a variety of voices. We're offering discounted tickets for underrepresented communities in tech. If you belong to one, sign up here.
Student Tickets: While GraphQL Asia is largely geared towards working professionals, we would love some student participation! Apply for a student discount here.
Volunteer
We're looking for volunteers in the run-up to and during the conference itself to help us conduct it smoothly. Sign up here.
Sponsor
I would like to thank our sponsors without whose support this event would not have been possible! First time conferences are always hard to sponsor because of the lack of conference stats & prior track record. Our sponsors are truly committed to fostering this ecosystem & we're super thankful :)
Silver Sponsors: DigitalOcean
Bronze Sponsors: Github, Tokopedia.
We have a few more that we will be announcing soon. If your company would like to get involved, we still have a few sponsorship slots open. Reach out to me on Twitter.
---
We can't wait to meet you in Bangalore ???! See you soon!