Celebrating Open-source with Hasura: Hacktoberfest & more!
Every year, Hasura participates in the Hacktoberfest organised by Digital Ocean. And we are back at it in 2021 making it our 4th year in a row.
This time around, there are 2 ways you can participating in celebrating open-source with us:
Contribute to the Hasura GraphQL Engine
Hasura Tips & Tricks Contest
Here's how!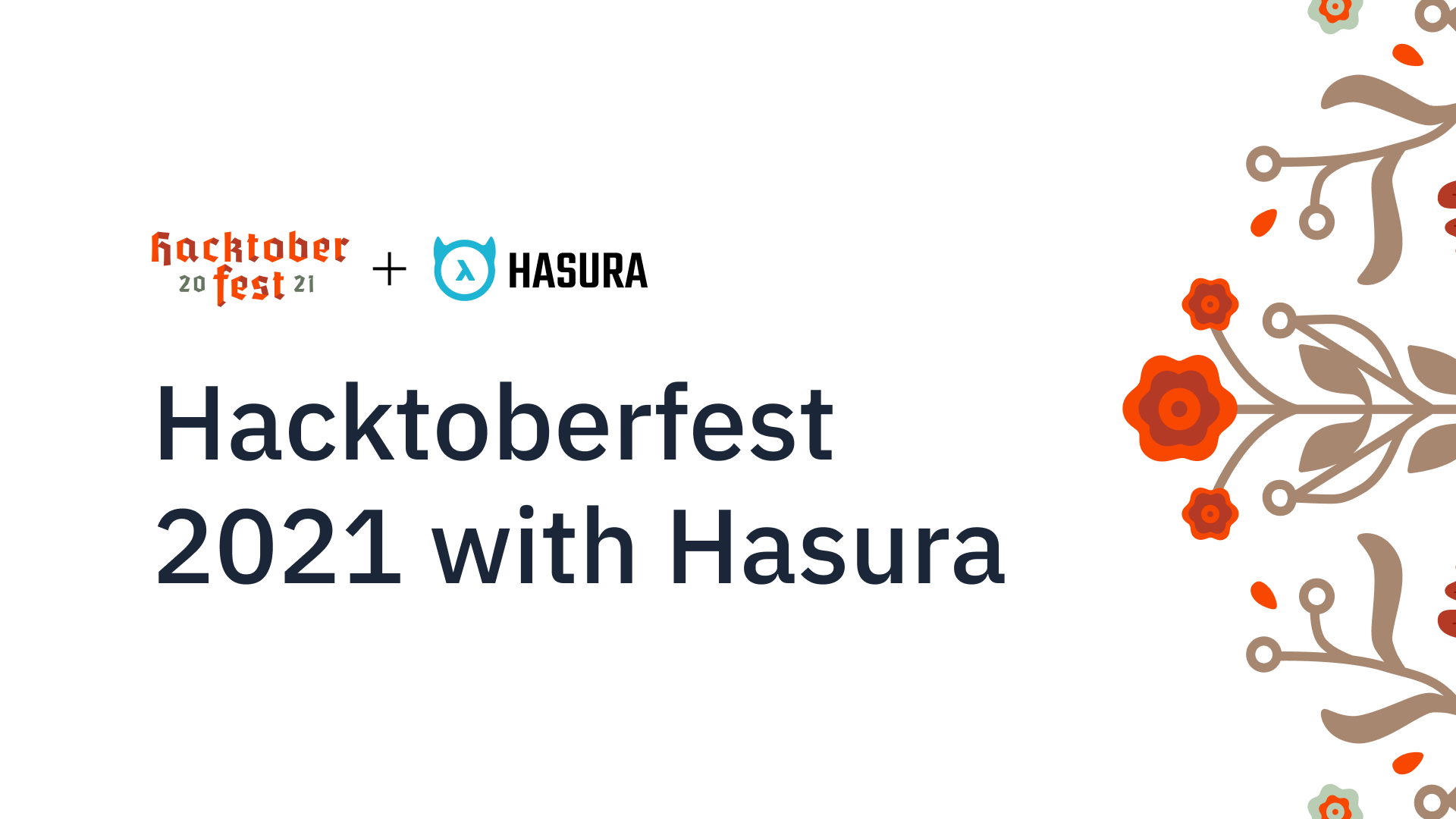 Hacktoberfest: The Hasura Edition
As part of this year's Hacktoberfest,, we have labelled a bunch of issues in the Hasura GraphQL project on GitHub. We will be accepting contributions for the open issues till 14 Nov. If you are new to Hacktoberfest, you can read all about it here.

Note: Valid PRs made after 31 Oct will be eligible to win Hasura swag. However, they will not be considered for the official Hacktoberfest event by Digital Ocean (since it ends on 31 Oct).
🤝 How to participate
Submit a PR for one of our issues mentioned below
We will review your PR within 12 days
If it is valid, we will either merge it or label it as "hacktoberfest-accepted"
👕 Winning Swag
All valid contributions get sent a swag box
Please make sure you have your email address mentioned in your GitHub profile so that we can send you the swag form on acceptance of your contribution
This year, the following components of the hasura-graphql repo and a few other projects on our GitHub have curating a list of issues that you can contribute to:
Before you get started, read through the contributing guide of the component you'd like to work on:
⏰ Deadline
If you want to qualify for Hacktoberfest, you need to submit your PR before 31st Oct.
However, we will be accepting PR submissions for the open issues till 14 Nov and will ship you swag for an accepted PR.
✅ What is a Valid PR for Hacktoberfest
A PR that gets labelled as "hacktoberfest-accepted"
A PR that gets merged
❌ PRs that will not be accepted for Hacktoberfest
We will not accept:
Typo fixes
Grammatical fixes
Contributions to issues not tagged with "Hacktoberfest"
If you have any questions or want to contribute to an existing issue without the hacktoberfest label, please reach out to us on Twitter. We will see if we want to open it up for Hacktoberfest.
📝 Guidelines
Here are a few guidelines that will help make the Hacktoberfest experience a fun experience for everyone!
Working on an issue 🔍
Hacktoberfest is a great way to encourage open source contributions and help beginners get started. To ensure that everyone gets a fair chance to contribute, we won't be assigning issues to a single contributor. To show that you're working on a certain issue, comment on the issue of interest and make sure to reference it in your PR so that other participants can see the progress.
Code of conduct 📄
Open source is all about learning with and giving back to the community. To facilitate this, it is pivotal for us to create and maintain an inclusive space so that everyone can learn and grow together.
Please go through to our Code of Conduct thoroughly and adhere to it. Any violations of the Code of Conduct will not be tolerated and will further lead to disqualification from the challenge.
Quality over quantity 💖
As the old saying goes, the more the merrier — we truly appreciate, and hence, encourage you to contribute to as many issues as you can. However, we also believe that quality trumps quantity and thus, abide by the official Hacktoberfest quality standards while reviewing PRs. PRs that do not match these quality standards will not be considered as eligible for completion of the challenge.
Hope to see some awesome contributions from you!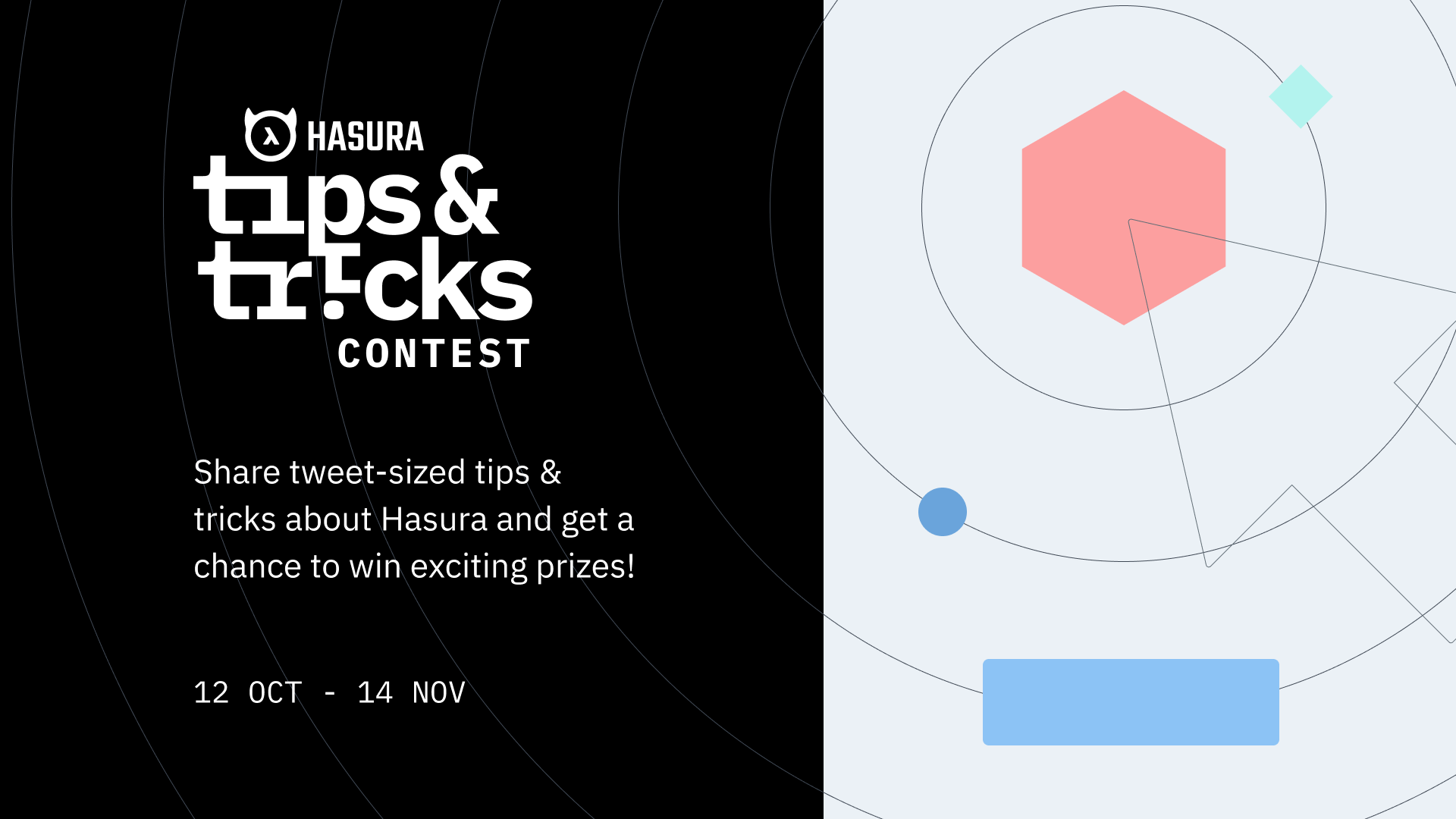 Hasura Tips & Tricks 🎩
We're hosting a contest for sharing your favourite tips & tricks with us! And we've got some special prizes and swag for winners and participants.
🤔 How can I enter?
Follow us on Twitter to stay connected during the contest
Like our announcement tweet embedded below
Share your favourite tips & tricks below the announcement tweet as a comment
📜 What does my submission look like?
Describe your favourite trick/hack about app development with Hasura that fits in a single tweet
Record a quick video and add it to the tweet for bonus points
Throw in the hashtag #Tips&TricksWithHasura
And voila! You've entered the contest! 🎉
🔖 Here's a quick example of what your submission could look like:
✅ What can it be about?
Anything  that would teach users about a unique way that you are using Hasura!
❌ What can it not be about?
Anything that does not relate to using GraphQL or Hasura.
🎁 What do winners get?
Participants get something too: We will ship some Hasura swag to you if you enter the contest with a valid submission. Submissions that do not align with submission guidelines will not be accepted.
Additionally, we will send free Hasura Cloud credits to the top 5 entries.
And lastly, the most creative, most popular, and most unique entries get special prizes.
📆 How long will the contest run?
The contest will be running from the time of announcement till November 14. We will be announcing the winners shortly after that.

Can't wait to see what you all share with us!
We want you to win! 🚀
We are super stoked to have you all participate and celebrate open-source yet again with the Hasura Community!

Follow us on Twitter to keep an eye out for updates and join us on our Discord to come hang out with the rest of the Hasura community.