Hasura Joins Hacktoberfest 2019!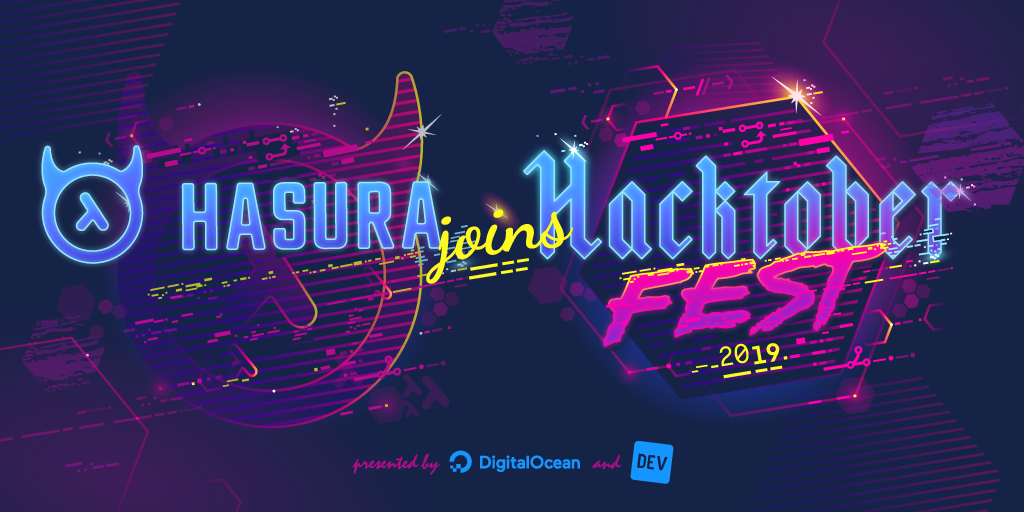 DigitalOcean is back for another round of Hacktoberfest! This time they've teamed up with Dev.to for their giant, month long celebration of open source software.
We're excited to announce that Hasura is taking part in Hacktoberfest for the 2nd year in a row!
So what is Hacktoberfest?
6 years ago, DigitalOcean started Hacktoberfest as a way to celebrate open source projects. They organized challenges that encouraged developers all over the world to contribute to any open source project they felt like.
This has been a huge win for the entire open source community. Each year Hacktoberfest helps thousands of developers discover interesting projects to contribute to and helps thousands of open source projects (like us) get discovered!  
It's rare to see such a large, successful company have such a massive grassroots level impact. They've even got an independent category for projects focused on climate change this year!
We want to give a huge shout out to DigitalOcean for everything they've done and to Dev.to for partnering with them on this project.
We are also very happy that we get to play a part in this!
The Hasura Hacktoberfest challenge
We've got our own challenge for Hacktoberfest 2019 :
You can open a PR for any of our open source projects (mentioned below) and we will send you a sticker pack.
If the PR you submit for any of the issues in our 2 repos tagged with the label Hacktoberfest gets merged, you'll win a limited edition (designs coming soon!) Hacktobefest t-shirt along with a sticker pack!
Our open source projects
We've got 2 open source repos that you can contribute to as part of this year's challenge:
The Hasura GraphQL Engine: The Hasura GraphQL Engine is a GraphQL server that gives you instant, realtime GraphQL APIs over Postgres, with webhook triggers on database events for asynchronous business logic.
The GraphQL Tutorial Series: This is a community maintained tutorial series that introduces developers to the basics of GraphQL and will teach them how to build a realtime application in 2 hours.
Contributing to any of these repos will count towards the Hacktoberfest challenge.
Getting started
Ready to dive in? Here's how to contribute:
Make sure you register! The first thing you need to do is sign up for Hacktoberfest before 31st Oct.
Check out our Contributing Guide: Jumping into a new project can be a little confusing at first. Our Contributing Guide will help you get oriented with the Hasura GraphQL Engine. We are working on a contributing guide for the GraphQL Tutorials and will announce it on Twitter as soon as it's out.
Contributing to a Hasura Challenge issue: To qualify for the Hasura challenge, you need a submit a PR for a Hasura GraphQL Engine or GraphQL Tutorial issue tagged with the label Hacktoberfest. You can find a list of Hasura Challenge issues for the  Hasura GraphQL Engine here. We will add a list of Hasura Challenge issues for the GraphQL tutorials soon.
We will keep adding issues to these lists. Keep an eye on our Twitter to know more.
We want to help you win!
This year, Hacktoberfest expects over 150,000 participants! With only the first 50,000 participant to complete the challenge being eligible for the limited-edition shirt, it's a race against the clock to win the challenge!
We want to help as many contributors win the Hacktoberfest challenge as well as the Hasura challenge. If you have any doubts or questions, reach out to us on our Discord server!
Follow us on Twitter for updates on new issues & other hacktoberfest announcements (like the new tshirt design :))
Happy hacking!