With Hasura, celebrate open-source in style with Hacktoberfest!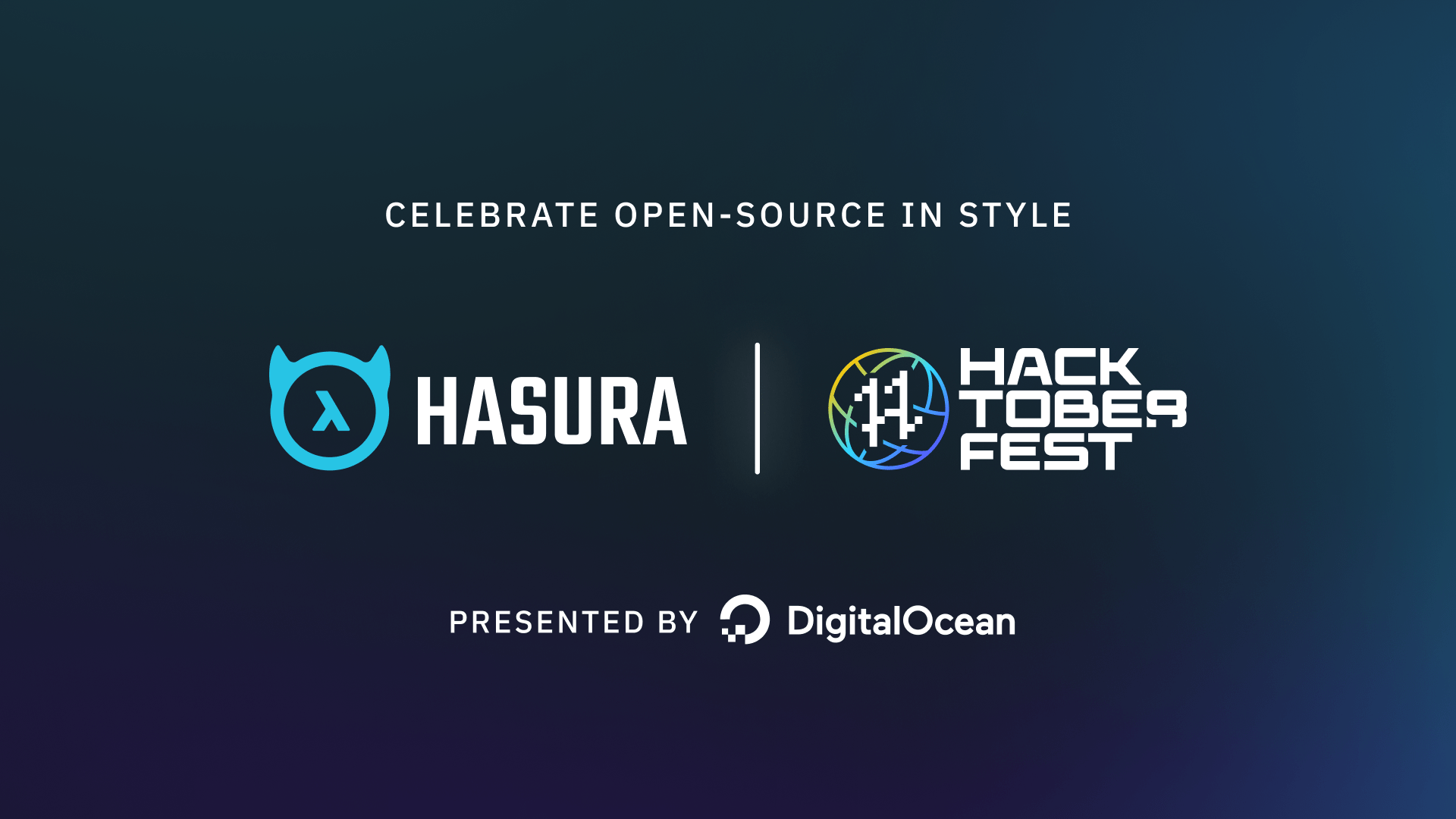 Intro
Hello October! My favorite spooky month. Continuing our tradition, we are back in 2022 for the fifth time! Hasura takes part in the Digital Ocean Hacktoberfest.
We are incredibly delighted to be a part of this event and are particularly pleased with how the open source community has united to create quality submissions and to thank the maintainers.
Getting started
How to get involved
Submit a PR for one or more of our issues mentioned below.
Your PR will be reviewed within 2 weeks.
If it is valid, we will either merge it or label it as "hacktoberfest-accepted".
Our open source project
Here we present to you our open source repo that you can contribute to as part of this exciting year's challenge:
The Hasura GraphQL Engine: The Hasura GraphQL Engine makes your data instantly accessible over a real-time GraphQL API, so you can build and ship modern, performant apps and APIs 10x faster. Hasura connects to your databases, REST and GraphQL endpoints, and third party APIs to provide a unified, connected, real-time, secured GraphQL API for all of your data.
Valid PRs 🙂
If your PR properly addresses and solves an issue labelled as "hacktoberfest'', it's a valid PR. All valid PRs will get the label "hacktoberfest-accepted".
Invalid PRs ☹️
PRs that don't address and solve an issue labelled "hacktoberfest" are generally invalid. However, if you submit a PR that we consider valuable, we might still consider it for Hacktoberfest by adding the "hacktoberfest-accepted label". There are no guarantees for this though.
Deadline
For your PR to qualify for Hacktoberfest, you must submit it on or before October 31st.
We will be reviewing PR submissions for the open issues until November 11th.
Contributing guides
Before you get started, please read through the contributing guide of the component you wish to work on:
Note: We don't encourage contributions to the Console code because of its complex architecture.
Guidelines
We've put together a few guidelines to make Hacktoberfest fun for everyone!
Code of Conduct
A big part of open source is learning from and contributing to the community. It is vital that we create and maintain an inclusive environment so that everyone can grow and learn together.
We ask that you read and adhere to our Code of Conduct thoroughly. Violations of it will not be tolerated and will result in disqualification from the challenge.
Quality, not quantity, is our measure
We believe that you can create better results when you focus on doing fewer things but put more thought into them. While reviewing PRs, we also adhere to the official Hacktoberfest quality standards, as we trust quality trumps quantity. PRs that fail to meet these quality standards will not be eligible for completion.

Winning swag
A t-shirt and a sticker pack is sent to everyone who submits a valid contribution.
We'll reply with a comment to your PR asking you to fill out an order form.
Keep calm and win!
The Hasura Community is excited to have you all participate in yet another celebration of open-source!
Follow us on Twitter to keep an eye out for updates & join us on our Discord to come to hang out with the rest of the Hasura community!
Cheers to a new month and another chance for us to Git the festivities started!