10 Reasons We're Super Excited About HasuraCon'22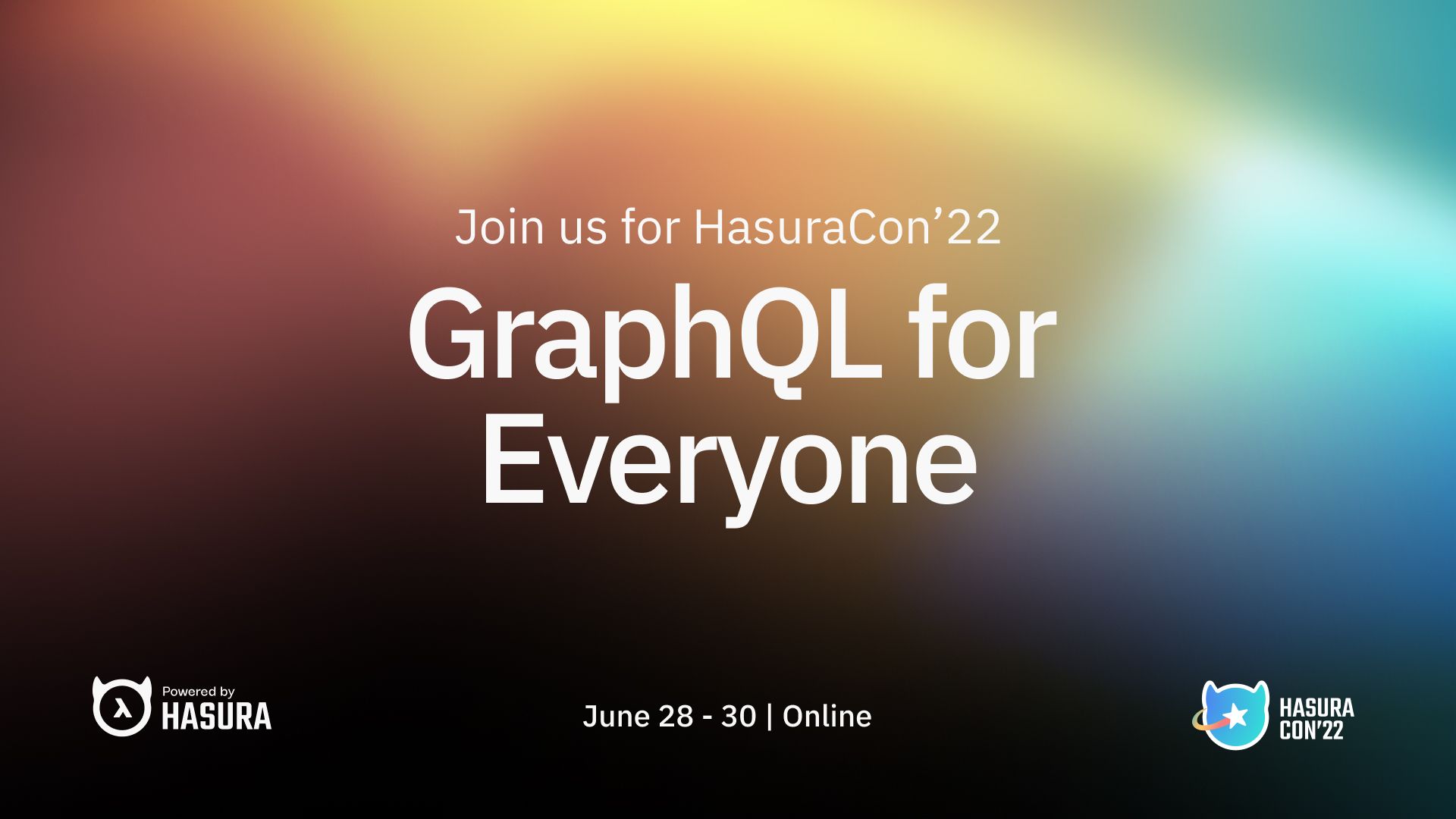 Our annual user conference, HasuraCon, is back for the third time June 28th-30th. At Hasura, we're changing how software is being architected by making a GraphQL-powered Data API a key leverage point to unlock data and developer productivity. Hasura has been growing fast and building faster so we have a lot to share. We're bringing the global Hasura community together to share exciting product releases, inspiring keynotes, real-world use cases, hands-on workshops, and our very first HASURAwards! Here are the top 10 things you won't want to miss at HasuraCon.

1. Product Announcements: What would HasuraCon be without product announcements? We are in constant communication with the community and power users seeking ways to improve our tech. Getting together every year at HasuraCon is our chance to showcase the hard work of our engineers, along with the community to further grow what Hasura can do. Some announcements at a glance include:
Building new Data Backends for Hasura
Hasura GraphQL Engine - Key Updates
Hasura Cloud and Enterprise - What's new in 2022
Observability for your Hasura-based apps

2. Killer Keynotes: Our keynote speakers will cover a range of topics like:
The ultimate data API with GraphQL
Learnings from Vint Cerf one of the internet's Founding Fathers
Scaling DevOps with Emily Freeman from AWS.

3. Real-world Hasura & GraphQL at scale: A goal of ours is to provide real-world, tangible uses of Hasura and GraphQL from users and customers. Here's a quick glance of the use cases you can expect to see at HasuraCon:
Hasura Cloud being built using Hasura
Insurtech Modernization with Datalakes and GraphQL - from hubb Technology
Hasura in Journalism: Finding Stories and Speeding up Fact-Checking - from The Marshall Project
Incrementally adopting Hasura in a multi-tenant healthcare SaaS app - from RxVantage  

4. Specialized track for frontend & fullstack devs: The frontend and serverless ecosystems are evolving at a rapid pace and we have some very exciting sessions to showcase these innovations and how GraphQL and Hasura fit in to give more firepower to frontend developers!

5. How we build Hasura: HasuraCon deep dives will bring to life technical sessions on monitoring, building, migrating, and improving the way you're building applications and accessing your data. Whether you're at a startup, or enterprise, come ready to dive deep and ask questions. Our product, engineering, and design teams are opening up their playbooks on how we're building things at Hasura.

6. Workshops: We know the value of hands-on workshops. So HasuraCon offers an array of workshops that will fit your experience with GraphQL and Hasura. Beginner topics include Getting started with Hasura and Securing your GraphQL API with Hasura. Advanced topics include Creating and federating data across a unified GraphQL API and Reusing REST APIs with Hasura. Workshops are 90 minutes in duration and are stacked back to back (with breaks) so you can attend multiple to grow your skill set. Requirements can be found under each workshop description here.

7. HASURAwards: HasuraCon and community events would not be possible without the people. This year, for the first time, we want to shine a spotlight on the users who have made cool stuff, come up with funny Discord names, worked on a project for good, and more. It's a small way to say thank you to people whose work has made a big impact.

8. Sponsors: And, of course, our Sponsors who are bringing to the table talks, workshops, swag, job postings, and more. Don't miss the chance to join the conversation and hear what's new with The Guild, Netlify, and StackHawk.

9. Custom Avatars: Build your very own Hasura avatar for HasuraCon! And get entered for a chance to win some custom swag when you share your avatar on twitter! Just tag @hasuraHQ

10. Our community: One of the things we absolutely love about HasuraCon is seeing familiar faces, the chatroom discussions, and meeting new community members. We're looking forward to making some new friends, albeit virtually!

Basically, HasuraCon'22 is one you don't want to miss. Register now for this free community event.