Announcing Hasura 2.0.0-alpha.11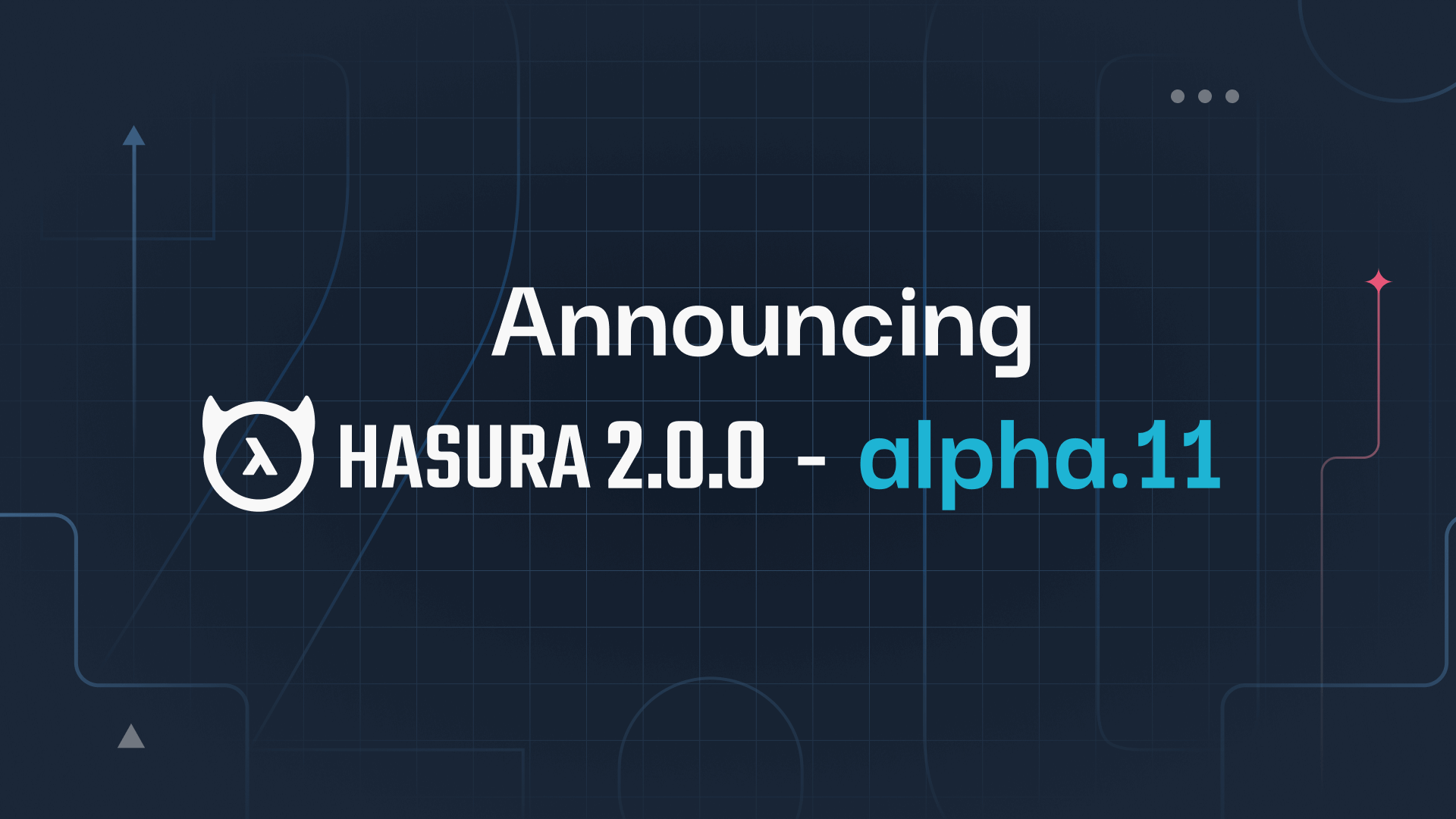 We are super excited to announce the final alpha in the 2.0 series with 2.0 alpha 11.
While 'alpha' in name, it is not alpha in quality. However, we do use this signifier to denote that it is a work in progress and invite feedback about any problems you may experience.
A Summary of Releases
As mentioned in recent release posts, we have historically announced our releases via Discord and updates to the GitHub release page. As adoption continues to increase, we believe this is insufficient for the future.
To that end, we will begin to blog for each release (even if it is only small) so that you can track releases via blog, twitter (@HasuraHQ), Discord, and the Github Release page. In these posts, we will highlight a few specific elements of each release, but the exhaustive list of features and improvements is always in the changelog.
Overview
Breaking Change
In this release, the name of the computed field argument has changed from <function_name>_args to <computed_field_name>_<table_name>_args as the function name is internal detail for a computed field. This change also enables adding a root-level tracked function as a computed field which previously would have thrown input type conflict error.
Allow tables with the same name in different sources
In previous releases there was a bug that prevented tables with the same name but from multiple sources. If you have the same table names from different contexts, you can now customise one of them to have a different name from the Modify page in Hasura console
SQL Server Explain API
You'll also now be able to use the explain feature for SQL Server queries and subscriptions.
And more...
Those are, of course, just the highlights. All other fixes, and there are many, are included in the changelog.
Conclusion
Please use the docker target `hasura/graphql-engine:v2.0.0-alpha.11`, try it out, let us know what works and what needs improvement. You can find us on Twitter (@HasuraHQ) and in Github. For ad-hoc conversation, feel free to join us on the Hasura Community Discord.
And, if you want to get started now with the latest stable release, check out the deployment simplicity of Hasura Cloud.
Previous Posts
For previous release announcements in the 2.x series, please review: