5 HasuraCon 2023 happenings that'll make attending another virtual event worth it
HasuraCon 2023, happening June 20-22, is just around the corner! If you're a developer, engineer, or tech enthusiast, this event is not to be missed.
HasuraCon brings together experts, thought leaders, and professionals from around the globe to explore the latest trends, insights, and innovations in the world of GraphQL, data architecture, and app development.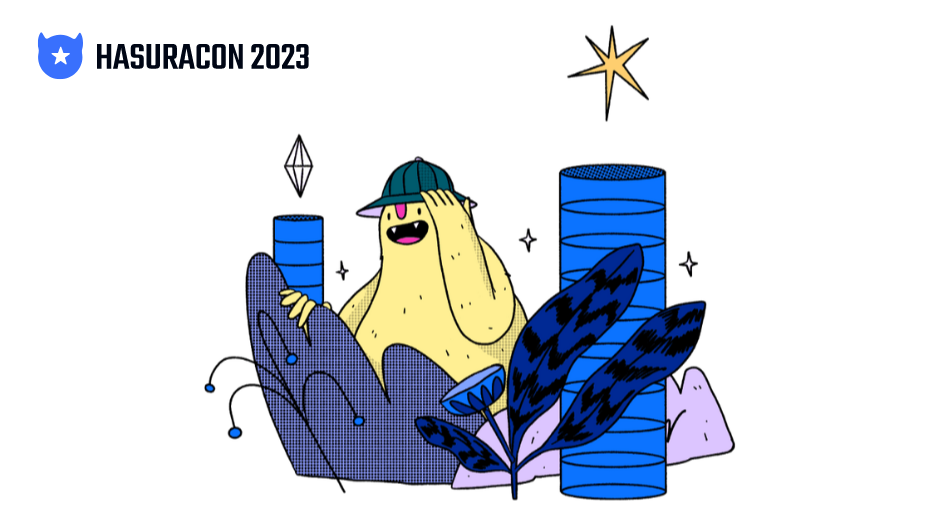 In this blog, we're highlighting five reasons why attending HasuraCon 2023 is a must for anyone looking to stay ahead in the rapidly evolving technological landscape.
Access unparalleled learning opportunities
HasuraCon offers a diverse, extensive range of sessions, workshops, and keynotes, all delivered by experts. From deep dives into GraphQL and data engineering to hands-on coding workshops and use cases illustrating real-world implementations, HasuraCon's agenda is packed with valuable insights and knowledge-sharing opportunities.

Some callouts are Day 1 workshop "Build an AI application using Hasura," Day 2 keynote with Hasura CEO and Co-Founder, Tanmai Gopal on "The future of data delivery via API with Hasura," and Day 3 product deep dive "Data federation made easy with Hasura."

Whether you're a beginner or an experienced practitioner, you'll find content catered to your needs, allowing you to expand your skills and deepen your understanding of these future-forward technologies.
Network with tech leaders and peers
One of the advantages of attending HasuraCon is the opportunity to connect and network with like-minded developers, data architects, and more. The event attracts a diversified and highly talented audience, including engineers, developers, architects, and CTOs from leading companies.

Engage in conversations, exchange ideas, and forge valuable connections with the folks shaping the future of data access Collaborate, learn from others' experiences, and explore potential partnerships that can accelerate your growth. Our virtual platform of choice to host HasuraCon 2023  features topic tables to prompt discussion and a leaderboard with points for interacting with sessions and a chance to win some cool prizes!

Stay on top of the latest data trends
HasuraCon is at the forefront of the strategies and solutions for data access, management, and modern app development, making it the ideal platform to gain insights into the latest advancements and emerging practices. Be the first to learn about breakthroughs, innovative tools, and strategies transforming the tech landscape.

For HasuraCon 2023, we'll be highlighting all the most important updates happening in Hasura version 3, and introduction of a new way to define your domain's data and API specification, as well as plenty of content on GenAI and indispensable tips on unlocking the full potential of your database.

Stay ahead of the curve by attending sessions on serverless architectures, federation, AI applications, data engineering best practices, cloud-native development, and more.

Hands-on workshops and demos
At HasuraCon 2023, passive listening in sessions is only one way to get educated on all things GraphQL and APIs. The event offers one day of hands-on workshops, like "Build an AI application using Hasura" and "GraphQL federation with Hasura," as well as plenty of interactive demos that allow participants to engage directly with experts and learn through practical, real-world examples.

Whether you want to explore the depths of GraphQL, understand data modeling and schema design, or master the art of building scalable and performant applications, these workshops provide an immersive experience to enhance your skills and put theory into practice. Gain firsthand experience, ask questions, and receive personalized guidance.

Discover new tools and technologies
HasuraCon 2023 is a treasure trove of new tools, technologies, and solutions that can revolutionize how you develop applications and manage data.

Discover innovative frameworks, libraries, and development platforms that can supercharge your productivity and enable you to build robust, scalable, and performant applications. Get your hands on beta versions, preview upcoming releases, and learn from the creators. Unleash your creativity and uncover game-changing tools that empower you to build cutting-edge applications.

With plenty of learning opportunities, networking, insights into the latest trends, hands-on workshops, and access to new tools and technologies, HasuraCon 2023 is the place to be. See you there!